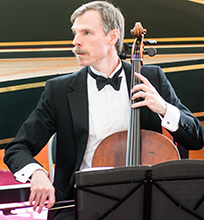 Daniel Ryan, co-Artistic Director, cellist, has played with Tafelmusik Baroque Orchestra, Il Complesso Barocco (Venice and Innsbruck), the Camerata Academica of Salzburg, and many ensembles in the Greater Boston area such as Boston Cecilia, Handel & Haydn Society, Boston Baroque, and Favella Lyrica, with whom he appeared on the Bank of Boston Emerging Artists Celebrity Series. With the Boston-based group Renaissonics, he was featured on NPR's Sound and Spirit program in 2005 and released a CD for WGBH radio. While attending Boston University, he studied cello with George Neikrug and pursued historical performance through course work at the Longy School of Music. He later studied with Christophe Coin at the Sommerakademie in Innsbruck. Also an accomplished player of keyboard instruments, Mr. Ryan has been awarded the Associate Certificate of the American Guild of Organists and is Music Director at First Religious Society in Carlisle. He is on the performance faculty at Wellesley College where he is also a member of the Guild of Carillonneurs. He has recorded for Centaur, Titanic, Meridian, and Koch.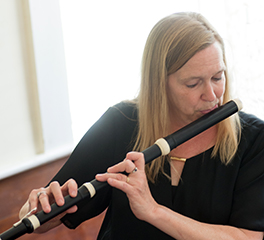 Suzanne Stumpf, co-Artistic Director, flutist, has performed with numerous chamber and orchestral ensembles including the New York Bach Ensemble, Boston Cecilia, Handel & Haydn Society, and Boston Baroque, with whom she has appeared as soloist. She has toured in Germany and Austria with I Vari Flauti and has served as guest principal flutist for the Montreal Baroque Orchestra. She also performed at the Yellow Barn Music Festival, where she worked closely with John Cage. An honors graduate of Wellesley College, where she was awarded several prizes, Ms. Stumpf studied historical performance in Vienna with Nikolaus Harnoncourt and in Zurich with Johann Sonnleitner, and has done graduate work at the Mozarteum in Salzburg. She teaches at Wellesley College, where she is Senior Music Performance Faculty in Flute, Baroque Flute, and Chamber Music. She has presented masterclasses and workshops in historical performance for the Amherst Early Music Festival, Clark University, Dartmouth College, and New England Conservatory, among others. She may be heard on Centaur, Titanic, Telarc, and Meridian.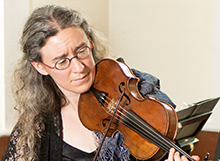 Sarah Darling, violinist and violist, enjoys a varied musical career that spans many centuries and styles. Sarah studied at Harvard and Juilliard, and in Amsterdam and Freiburg (as a recipient of the Beebe, Paine, and DAAD grants), and is currently finishing a doctorate at New England Conservatory with Kim Kashkashian. She holds a variety of leading and directorial roles with A Far Cry, Boston Baroque, the Harvard Baroque Chamber Orchestra, Gut Reaction, Musical Offering, Les Bostonades, and the Arcturus Ensemble. She also performs with the Boston Early Music Festival, Carmel Bach Festival, Emmanuel Music, the Bach Ensemble, and Tafelmusik Baroque Orchestra, and has recorded old and new music for Naxos, Linn, Paladino, Azica, MSR, and Centaur. As a chamber musician, Sarah has performed in the Ravinia, Lucerne, Larzac, Sarasota, and Yellow Barn festivals, and has collaborated with members of the Juilliard, Takacs, Borromeo, Ying, Orion, and Cleveland quartets. She is active as a teacher and coach, with a special interest in body mechanics and musical rhetoric.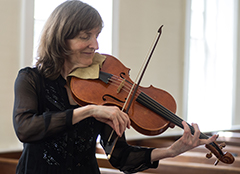 Marcia Cassidy, violist, is an active chamber music recitalist, teacher, and freelance violist. As a member of the faculty of Dartmouth College, she teaches violin and viola, coaches chamber music, and leads sectionals for the Dartmouth Symphony. Ms. Cassidy is also principal violist of the Burlington Chamber Orchestra in Vermont and Opera North in New Hampshire. As the violist of the Franciscan String Quartet, Ms. Cassidy performed extensively in the United States, Europe, Canada, and Japan to critical acclaim. The quartet was honored with many awards and honors, including first prize in the Banff International String Quartet Competition. Raised near San Antonio, Ms. Cassidy pursued her musical training at the University of Texas, University of New Mexico, New England Conservatory, San Francisco Conservatory, and with the Tokyo String Quartet at the Yale School of Music. She has participated in numerous summer music festivals including Aspen, Banff, Blossom, Norfolk, and Tanglewood.
Michael Bahmann, harpsichordist, fortepianist, has performed extensively in the U.S. and in Europe. He holds degrees from the Staatliche Hochschule für Musik und Theater Hannover, San Francisco Conservatory, and New England Conservatory. As one of the founding members of Musicians of the Old Post Road, he has appeared at early music festivals in Indianapolis, Regensburg, and Mexico City, and has recorded CDs for the Meridian and Centaur labels. As a soloist and recitalist, he also performed at the festivals of Radio France, Königslutter, Aix-en-Musique, Chicago Symphony Chamber Concerts, Bay Chamber Concerts, and Museum Concerts of Rhode Island, among others. He has toured with the Baroque orchestra Musica Aetema of Bratislava, and was invited to direct Handel's Orlando for the Festival of Antibes in 2005. While a member of Music of the Baroque of Chicago, he recorded several concerti for harpsichord for the Fine Arts Radio Network. Mr. Bahmann is Artistic Director of Musica Maris, a period instrument concert series based in Rhode Island. He is music director and organist at the United Congregational Church of Little Compton. In his spare time, he works as an organ voicer for Fratelli Ruffatti of Padova.